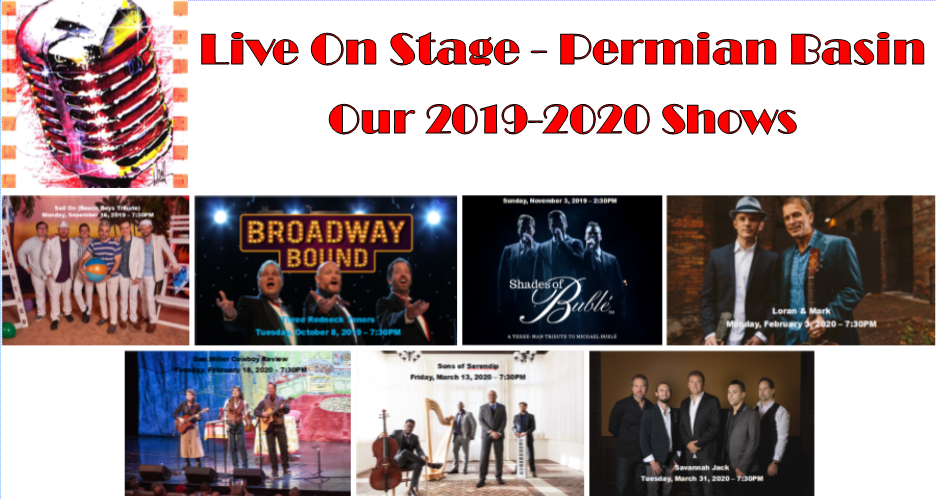 Hello Live On Stage Permian Basin Season Members
We have four more shows this season. All at 7:30PM. All at Wagner Noel PAC.
Loren & Mark – Monday, February 3

Dan Miller's Cowboy Music Review – Tuesday, February 18

Sons of Serendip – Friday, March 13

Savannah Jack – Tuesday, March 31
Mark your calendars!
Loren & Mark – Monday, February 3 at 7:30 PM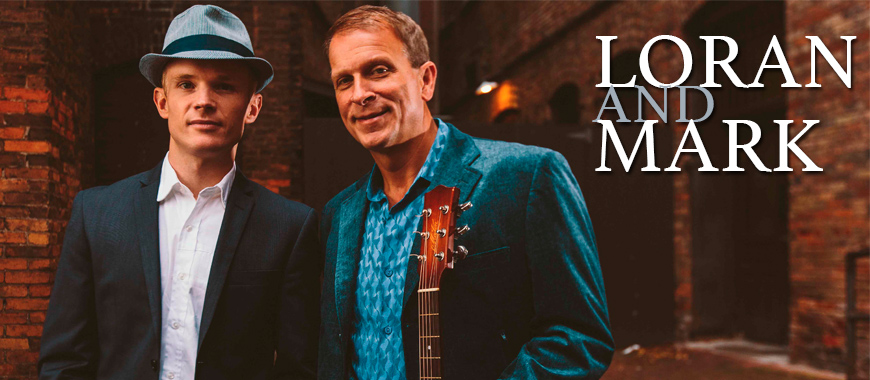 Our next show. Mark and Loren continues to wow audiences around the globe with their world-class guitar show. New Zealand native Mark Mazengarb and Loren Barrigar (New York) share a unique musical chemistry and are the perfect match in both virtuosity and sensitive musicality. Their diverse repertoire draws on many musical influences including Americana, Jazz, Classical, Bluegrass, Gypsy Jazz and more.
Dan Miller's Cowboy Music Review – Tuesday, February 18 at 7:30 PM
Dan Miller brings his western music styling to your audience directly from the award-winning Buffalo Bill Center in Wyoming. The group has been featured in USA Today, RFD-TV, The Travel Channel, ESPN, and GAC. Their program ranges from Americana and western to bluegrass and gospel. Authentic western music review.
Sons of Serendip – Friday, March 13 at 7:30 PM
Sons of Serendip create beautiful music through the use of harp, piano, cello, and voice. This Billboard charting quartet is gaining popularity since appearing on season 9 of America's Got Talent as finalists. Their program is a fresh mix of emotionally popular music, engaging stories, and audience participation. Musical serendipity
Savannah Jack – Tuesday, March 31 at 7:30 PM
Savannah Jack returns with a new program of country, pop, and rock party hits. These versatile musicians infuse their individual style to collective
ly create that signature Savannah Jack sound. The group is led by the dynamic and energetic lead singer, Don Gatlin. High-energy crowd engaging show.
Membership
We have four shows left in this season. Individual tickets are $35.00. If you are planning on three or four shows, it means that the Season Membership is still a good deal. $99.00 for four shows. Students/children are $35.00. Get your membership at the Wagner Noel box office or click the button below.
Sponsorship
We provide live entertainment at a price just about anyone can afford. Part of that affordability is due to sponsorship. We all are aware that our area has grown but some of our sponsors have moved away. We need more sponsors just to maintain our program. We need even more sponsors for our program to grow.
We've come up with a great deal for new sponsors. Two season tickets cost $198.00. The Bronze Sponsorship is $500.00 and includes two season memberships. Your name (or company name) will be listed on our brochures and website for the entire season. In addition, you can request complimentary tickets to any show for personal use and to donate to a charity of your choice.
Here are the Sponsorship levels:
Bronze is $500.00 and includes 2 season memberships
Silver is $1,000.00 and includes 4 season memberships
Gold is $2,500.00 and includes 6 season memberships
Platinum is $5,000.00 and includes 8 season memberships
Sponsors!
We would like to thank our many fine sponsors for their support.
Platinum
Arts Council of Midland (ACM) (acmidland.org)
Tall City Blues Fest (tallcitybluesfest.com)
Odessa Arts (odessaarts.org)
The Rea Charitable Trust (reacharitabletrust.org)
Show Sponsor
Discovery Operating and Leon Jeffcoat – Sail On
Gold
Discovery Operating
Leon Jeffcoat
Big D Company
Wells Fargo Foundation
Silver
Vision Natural Resources
Farsight Voice Data Solutions
Discovery Operating Inc.
Leon Jeffcoat
Dynasty Wireline Services
Legacy Real Estate/ Stephanie Rogers
Wildcat Oil Tools, LLC
Bronze
Brit and Pat Meadows
Dexter and Susan Harmon
Woodhaven Energy Corp
Vickie Maddox
J. D. & Venita Faircloth
David and Kathy Ham
Frost Bank
John & Cindy Fisher
Lone Star Bank