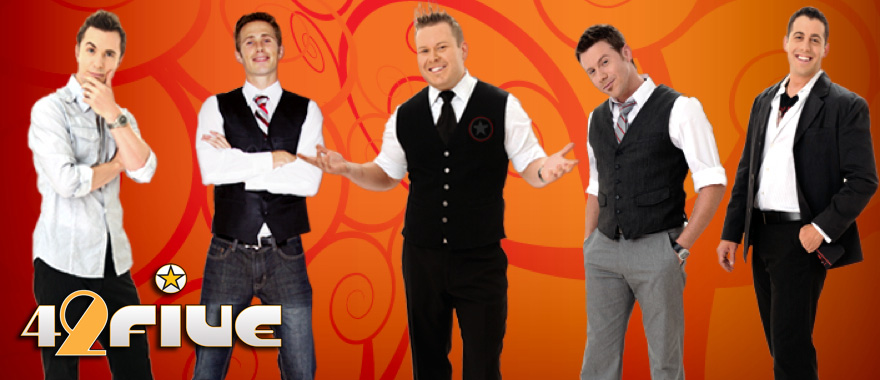 MONDAY, MAY 13, 2013 – 7:00 PM
Wagner Noël Performing Arts Center
42Five (pronounced "Four Two Five") has been performing their own unique brand of entertainment since the turn of the century. Evolving from a street corner barbershop sound, and drawing on funk, rock, jazz, and blues – 42Five is unlike any musical experience around, recreating an entire instrumental band with nothing but their five voices – a feat which has to be seen to be believed. The group is based in Orlando, FL., 
42Five brings timeless, classic music to life with renewed freshness and infuses their beautiful harmonies with a lovable sense of humor and style all of their own. 42Five is blazing new trails and winning the hearts and imaginations of audiences big and small and of every race, creed, sex, and age.
More fun than "The Sing-Off", more infectious than "Glee", this all-ages show will have you singing in your seat! With only 5 voices, no tricks, just talent, this award-winning acapella quintet takes you on a musical journey covering familiar favorites from the 60's to today, crafting an energizing performance that always leaves the audience standing on their feet, singing along and wanting more.
They've come together to create a new form of entertainment singing songs we all love, from the '60s to the tunes of today, including Journey's "Don't Stop Believing," Queen's "Don't Stop Me Now" and Three Dog Night's "Joy to the World." This award-winning a capella quintet is the entertainment for all ages, for all families and for all size audiences.
From the trumpet to the drums, you'll hear it all from their voices without a glimpse of shiny brass or drumsticks scattered on the floor. This new, innovative group is setting the bar high and using their technique to bring to life vocal impossibilities.
Not only do they melt audiences with their flawless harmonies, their charming sense of humor is sure to create a stir in the hearts of everyone.
42Five: Harmony, Humor and Heart