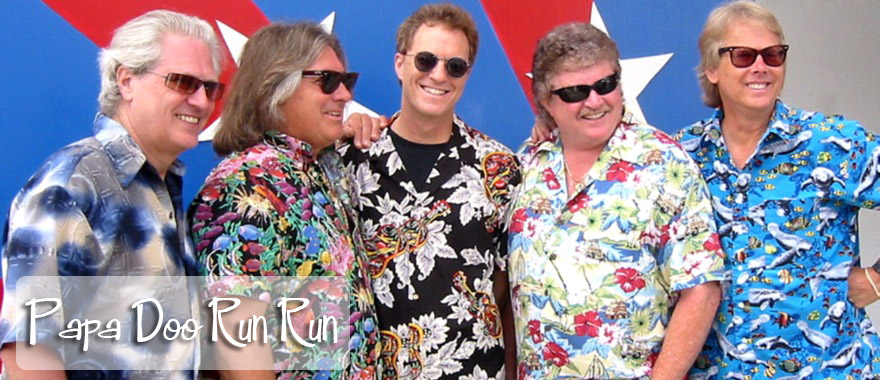 TUESDAY, SEPT. 11, 2012 – 7:00 PM
Wagner Noël Performing Arts Center
Riding the crest of a wave of success that's lasted FOUR decades, and having a TON of FUN doing it.
Formed in 1965, the now legendary California band, PAPA DOO RUN RUN, quickly discovered their forte: they sound like the Beach Boys! That sound led them to surf music icons, Jan & Dean, and from 1976-80 Papa toured North America with the duo. In the 80's Papa graduated from J&D to the Beach Boys, and toured and recorded with members of that band throughout the next 2 decades. The group also had an unprecedented 15-year run as the "Celebrity House Band" at Disneyland from 1975-90! In the mid 80's Papa Doo became the darlings of corporate entertainment, performing at up to 150 corporate events a year! Their fun packed show is still a favorite of dozens of Fortune 500 companies.
Papa's 1975 Top 40 hit "Be True To Your School" reached No. 1 in California. Their ground breaking CD "California Project" (1985) exploded onto the Billboard Hot 100 Chart at no. 17 and earned the band their second Gold Record and a Grammy Nomination. Additionally, Papa Doo Run Run appeared in, and recorded the soundtrack album for the CBS-TV movie Deadman's Curve. The band currently has 10 CD releases and a full length DVD.
Today, Papa Doo Run Run still averages about 100 dates a year, worldwide. Their act encompasses all the great Classic Rock hits of the 60's and 70's, with a special emphasis on their award winning re-creation of the hits of the Beach Boys. Their best kept secret: Papa Doo Run Run is who the Beach Boys call when they need someone to fill in their band.
From 1965-71 the band had 3 name changes. They started out as "the ZU". Then "GOODIE TWO SHOES", and finally "Papa Du Run Da Run", and late shortened to "PAPA DOO RUN RUN", (their name derived the background line of Jan & Dean's New Girl in School). PAPA established a solid performance schedule, playing as many as 200 dates a year, covering North America and two other continents, and a ton of island resorts.
Garning two gold record awards, nine charted singles and a Grammy nomination, Papa Doo Run Run consists of founding members Don Zirilli (keyboards/vocals) and Jim Rush (bass/vocals), 10-year member of the Beach Boys Jeffrey Foskett (guitar/vocals), Beach Boys and Frankie Valli veteran Adrian Baker (guitar/vocals), former Jimmy Buffet and the Eagles member, Bo Fox (drum/vocals) and Bobby Gothar (guitar/vocals) who's performed with country greats like Merle Haggard, Lee Greenwood, and Charlie Daniels.
Papa Doo Run Run are taking the baby boomers and their children out of their seats and dancing in the aisles.