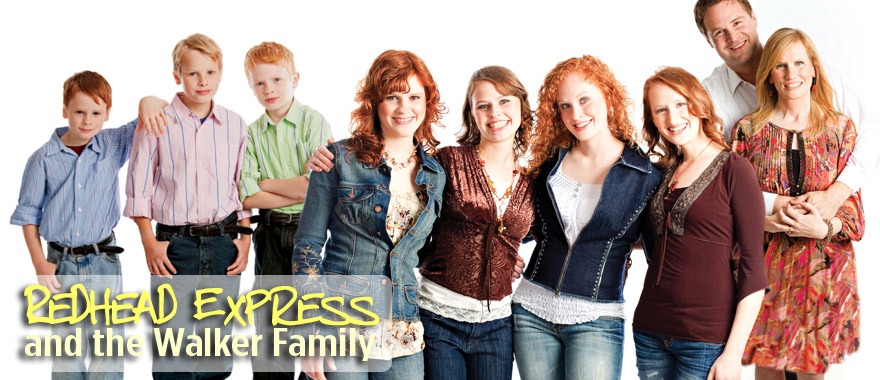 TUESDAY, OCT. 2, 2012 – 7:00 PM
Wagner Noël Performing Arts Center
Redhead Express and the Walker Family is a fascinating family! There are 9 of them living together in an RV with a chocolate lab, sharing their love of music and family all across the country. But 5 years ago the band didn't even exist!
Brett grew up in rural southwestern Idaho, eldest of 7, born into a family of singers which extends back generations. Apryll grew up in the Northwoods of Wisconsin, 9 of 10, and all sang, played piano, and at least a couple other instruments each. It all began when Brett sang to Apryll on their first date. Who could say no to an Elvis song? It was love at first sight and sound.
Apryll was a concert pianist and believes the love for music began when the kids were very young. "They grew up listening to classical music, and Daddy singing to them. They were bound to love music!" She began teaching them piano at age 5, got them singing and taking Suzuki Violin, and eventually the girls each wanted to try their hand at another instrument. Apryll recalls, "One day we realized we had a family band, and we decided to do something with it. We began singing at Farmer's Markets, Nursing Homes and local coffee shops. People really liked us, and we thought we ought to do something more with our newfound love of music."
One day, during a major mid-life crisis Brett asked Apryll, "What would you do if we had ALL the money in the world and nothing was stopping us, you would do it even if you never got credit for doing it?" Apryll declared, "I would take the family out on the road and study this music we've fallen in love with!" After a family meeting and lots of personal prayer, it was unanimous. The family would sell their brand new home they had just built and moved into 3 months earlier, sell everything, buy an RV and hit the road to study the root music of America.
The Walkers left their Alaskan home Thanksgiving Day 2007 and have not looked back. They have played across the country, from California to Florida, doing 200 shows a year at performing arts centers, fairs, festivals, churches, and schools. Having performed two seasons in Branson, and now pursuing a country career in Nashville, the Redhead Express has become a sought after show, considered highly entertaining. Their show is filled with variety, literally a song for everyone. The show is called an American Roots Show, featuring country, bluegrass, old timey, Irish, gospel, originals, and even 50's and 60's done acoustically. Redhead Express features tight family harmonies, hard driving instrumentals, and a ton of fun!
In Branson, Missouri, Redhead Express was nominated for Best Family Show. Kendra was given the committee chair award for her vocal prowess. LaRae was awarded banjo player of the year; Alisa most outstanding young female artist; and Meghan was awarded bass player of the year. Kendra also won the FAME Award in the Rio Grande Valley for her songwriting skills. Brett has been nominated twice for Male Vocalist through SPBGMA. The Redhead Express was also nominated through SPBGMA for CD of the year for Paintin' the Town Red, and Entertaining Band of the Year. The National Traditional Country Music Association also awarded Redhead Express, CD of the Year for Paintin' the Town Red.
Industry professionals describe the ascendance of Redhead Express as extraordinary. Without the help of an agency, they have performed nearly 1,000 shows and are booked 2 years out with coveted pricing and venues. Shortly after arriving in Nashville, Redhead Express was blessed to meet one of the finest producers in the country, Paul Worley. Producer of the Dixie Chicks, Martina McBride, Lady Antebellum and The Band Perry, among others, Mr. Worley has worked with the Redhead Express the past year in the development of their talent and their new country sound. They are looking to go into the studio with Mr. Worley at the end of 2011 to record the first songs of their upcoming country album.