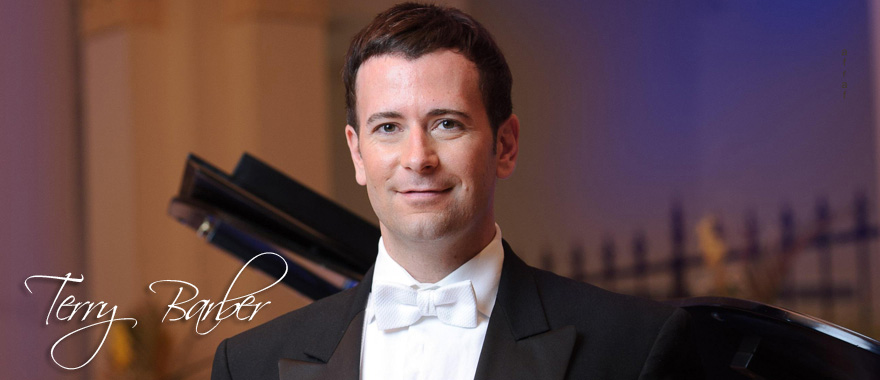 MONDAY, FEB. 25, 2013 – 7:00PM
Wagner Noël Performing Arts Center 
With an extraordinarily broad vocal range and natural fluency in a wide range of musical styles, American countertenor Terry Barber is a performer in a class by himself. He has been featured on some of the world's most prominent stages and has worked with many of the music industry's most prestigious songwriters, composers and producers. His recorded voice has appeared on every major label, as well as his own label, rEvolv Music. Whether performing classical or popular favorites, he "breathes new life into everything he sings," and crafts what the Los Angeles Times calls "performances of great vitality and verve."
As a member of the multiple Grammy-winning ensemble Chanticleer, Terry was called "…the jewel in Chanticleer's crown…" With them, he worked his way through the repertoire performing opera, classical, gospel, jazz and folk music in a dozen languages at over a hundred concerts around the globe. In 2002, Terry joined the roster of the Metropolitan Opera for their staging of Sly, starring Placido Domingo. He made his New York City Opera debut in 2001 in Il Ritorno d'Ulisse in Patria and covered Daniel Taylor in the NYC Opera's production of Handel's Rinaldo starring David Daniels. In summer of 2002 he performed at the International Spoleto Festival both the Spirit and the Witch in Purcell's Dido and Aeneas.
Terry made his debut at Carnegie Hall in 2004 singing the role of Orlovsky in Die Fledermaus with the National Chorale under Martin Josman. He was also featured with the Portland Baroque Orchestra in Handel's Messiah under the direction of Nicholas Kramer and with the New Trinity Baroque Orchestra of Pergolesi's Stabat Mater (with Evellyn Tubb) which prompted the Atlanta Journal Constitution to rave that "…his grasp of the texts and elegant phrasing made for charismatic singing." and "Barber has star quality".
Following incredible success at Moscow's Svetlanov Hall for the international "Art-November" festival last year, Terry will return to Russia for the third time at the specific request of the Lithuanian composer, Georgs Pelecis, to perform his "Revelation", a grand work for countertenor, trumpet, and piano soloists and orchestra.
In 2009, Terry founded Artist for a Cause, a non-profit corporation created to organize collaborations between artists and the charities they support. His personal performance project for the organization, A Sacred Journey features Terry singing sacred music in the baritone, tenor, alto, and soprano ranges by the best composers through time. The U.S. tour began in early 2010, has its 35th performance this year, and has raised thousands of dollars for community outreach.
Terry received his Bachelor of Music degree in vocal performance as well as the Musical Theater Certificate from Northwestern University. He received his Master of Music degree in historically informed performance from London's Trinity College of Music where he also received a post-graduate performance certificate with highest distinction. Immediately following the completion of his degree, Terry was hired to teach advanced vocal ensembles at Trinity College, while simultaneously touring England with the Kent Opera's production of Monteverdi's Orfeo.
Whether performing classical or popular favorites, Terry Barber "breathes new life into everything he sings" and crafts what the Los Angeles Times calls a "performance of great vitality and verve."