Kenny Rogers Band with Don Gatlin
Tuesday, September 13, 2022 at 7:30PM
Divas 3
Three female singers with powerhouse voices


Tuesday, October 11, 2022 at 7:30PM
Tribute to Jackie Wilson & Friends
Tuesday, January 24, 2023 at 7:30PM
Hi Tide
Acoustic duo from the Cayman Islands
Tuesday, March 28, 2023 at 7:30PM
Nic + Desi
Broadway Song, Dance & Romance
Thursday, April 27, 2023 at 7:30PM

Through the Years with the Kenny rogers Band ft. Don Gatlin – Tuesday, September 13, 2022
Salute to Kenny Rogers
40+ Years touring with Kenny Rogers

Don Gatlin – lead singer for Savanah Jack
Don Gatlin, longtime friend of Kenny Rogers, has joined Kenny's original band to present a timeless song catalog while sharing the untold stories from his illustrious career. Kenny was a GRAMMY Award-winning superstar that entertained fans for six decades. Selling over 120 million albums worldwide, he is one of the best-selling male artists of all-time. NOT a tribute band…Kenny's actual Touring Band.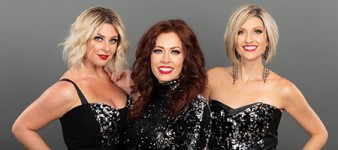 Divas 3 – Tuesday, October 11, 2022
Pop Vocal Trio w/Piano
Multiple Las Vegas Residencies

Featured on many popular cruise lines
Divas 3 consists of powerhouse Las Vegas vocalists performing your favorite chart-topping hits. Their three-part harmony arrangements joined by piano and tracks pays tribute to some of the biggest divas in music history including Cher, Dolly Parton, Whitney Houston, and more. Three Voices…Four Decades of Music
"…the crowd went wild!" – Wildstein Center for the Performing Arts

Chester Gregory: Tribute to Jackie Wilson & Friends – Tuesday, January 24, 2023
Tribute to Jackie Wilson
Award-Winning Actor/Singer

Broadway Star
Chester Gregory, joined by a rhythm section, performs a high-caliber tribute to Jackie Wilson and the artists he influenced. This energetic show will have you dancing and singing all night long. Chester is an award-winning actor and singer. He made his Broadway debut in Hairspray, performing in many more productions including the leading role of Berry Gordy in the hit show, Motown the Musical. Rhythm and Blues Tribute.
"A show of such physical and vocal dexterity…" – The New York Times

Hi Tide – Tuesday, March 28, 2023
Island Acoustic Duo
Recently singned to BMG Records

Featured on No Shoes Radio
Hi Tide is an acoustic duo from the Cayman Islands comprised of vocalist/percussionist, Shane Allenger, and vocalist/guitarist, Sean Hennings. Their program is a mix of pop classic covers showered in island influence. They have performed all over the world and can be heard on satellite radio, Sirius XM. Cayman Island Ambassadors.
"…a breath of fresh air…" – Cayman Compass

Nic + Desi: Broadway Song, Dance & Romance – Thursday, April 27, 2023
Song & Dance Duo w/ Piano
Broadway's Super Couple

From the Producers of Two On Tap
Nicolas Dromard and Desiree Davar sing and dance their way through classic and contemporary Broadway and the Silver Screen. The theatrical power couple share their love story by performing hits from their favorite roles in Jersey Boys, West Side Story, Wicked and more! The high-energy show features gorgeous vocals and exciting choreography in a traditional style with a fresh, modern twist. Song & Dance Sensation.
"This dynamic duo can do it all." – The Appeal Democrat